Wow. My ears are still vibrating. That was one of the best, loudest and most intense concerts I have ever been to. I'd never seen Nine Inch Nails before last night and the sheer bloody marvellousness of it all transported me back to my teenage/Uni borderline goth years which was a joyous thing. Support came from
Cold Cave
who did a good job of warming up the crowd who were already hungry for NIN. They played a mix of their newer tracks from Full Cold Moon and older stuff including one or two from the excellent Cherish The Light Years and didn't seem out of place in such a large venue. There are echoes of classic era New Order, Depeche Mode and even Erasure in their music which is no bad thing. Trust me on the Erasure reference - my mate John who was with me is something of an expert in that field. Wesley even name checked
Mono
in Glasgow as being his favourite restaurant so they couldn't fail to impress the home crowd.
Nine Inch Nails
came on to a mix of Pinion and The Eater of Dreams before appearing onstage like a terrifying, musclebound version of Kraftwerk and blasting through Me,I'm Not and Copy Of A. For the next two hours there was an aural and visual onslaught the sheer power of which is impossible to accurately convey in words. Once the synths were removed the live drums and guitars kicked in and gave new life to songs that were already pretty lively in the first place. Kudos especially to Ilan Rubin who among other things plays the drums like no other person on earth has before.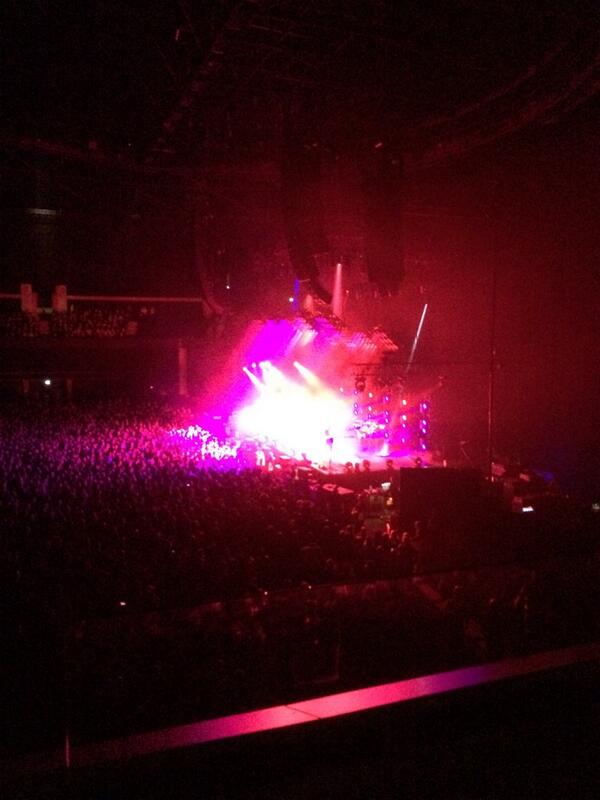 Nine Inch Nails - Gave Up (live Glasgow 20 May 2014)
We were treated to what you might call the band's greatest hits. March Of The Pigs nearly blew the roof off the Hydro and, when that was followed by an onimous version of Piggy, it dawned on me that I was watching tracks from The Downward Spiral being played live and that very nearly blew my brain. The Downward Spiral and Broken are two of my favourite albums of all time and seeing large chunks of them live for the first time ever was quite remarkable. Every song the band played added a new high to the night which, for me, peaked with an explosive version of my favourite NIN track, Wish. Absolutely remarkable. The versions of Eraser, Came Back Haunted and Head Like A Hole were out of this world too.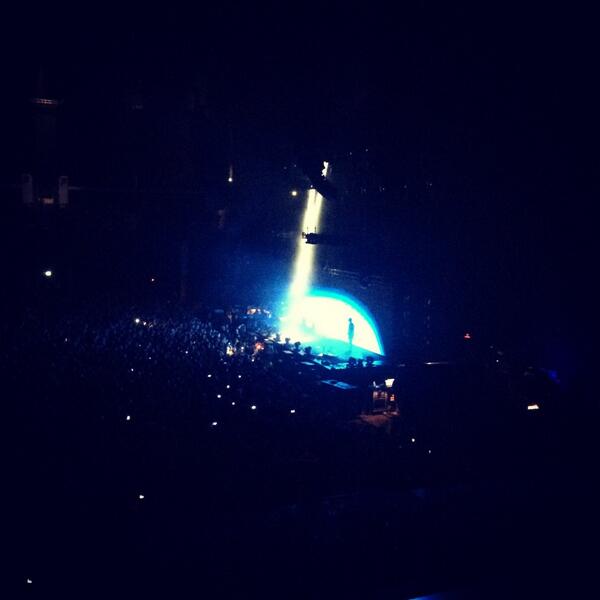 Trent Reznor really is a captivating frontman, He prowls the stage jumping around from scary sounding synths, to treated guitars and even to a piano solo on The Frail and never once do you take your eyes off him. This is a unique band and they deserve far more praise than they will ever get. It was as powerful as any gig I have ever been to and I really hope I get the chance to see them again. If you get an opportunity go and see them as soon as you can.
Setlist: Pinion/The Eater of Dreams, Me I'm Not, Copy of A, 1000000, March Of The Pigs, Piggy, The Frail, The Wretched, Gave Up, Sanctified, Closer, The Warning, Find My Way, Disappointed, Came Back Haunted, The Great Destroyer, Eraser, Wish, Only, The Hand That Feeds, Head Like A Hole (ENCORE) The Day The World Went Away, Hurt