It's clearly a fact that Martin Gore is one of the great songwriters of all time and, despite the odd houses/trousers moment, his lyrics are a treasure trove of darkness, light, beauty and, perhaps, a slight overuse of the notion of being down on one's knees. But, and you can tell by this question that we are currently between Depeche Mode projects and I am starting to run out of things to write about them, what about the songs where Martin doesn't write anything? The ones with no words or, the instrumentals as they are otherwise, correctly known? Well, here's my take on them. As ever, most of this isn't serious so don't worry too much if it looks like I'm talking nonsense.
1981 - 1989: Big Muffs, Small Towns and Fpmips
Back when synthesizers were a new thing and men roamed the streets dressed in kilts, bits of curtains and more make up than seems believable, synth bands thought nothing of popping the odd instrumental on an album. Our Basildon based heroes were no exception and DM's debut Speak & Spell featured, amongst the precision pop of Vince Clarke's tracks, two by Martin Gore, one of which, Big Muff, was presumably named after the guitar effects pedal of the same name. It's a delightful track, all beeps and bleeps and a wonderful lead synth riff that still sounds fresh as a daisy today. The band would play it live too around that time. Only being 6 at the time and having bigger concerns on my mind such as playing football in my garden, I didn't see them live then. Given the size of venues they played, I wonder how Dave managed to walk off stage during Big Muff? Perhaps he hid behind Fletch. Not to be outdone, Vince also produced an instrumental, Any Second Now, which was the b-side to little known and rarely played single Just Can't Get Enough and appeared as Any Second Now on the single and Any Second Now (Altered) on the 12". Both are smashing but the album version Any Second Now (Voices) where Martin sings over the track is the star take. It's also not an instrumental so I don't know why I mentioned it.
Sensing that one day Peter Gordeno would fill his shoes, Vince left in 1981 leaving Martin to write not only the songs with words, but also the instrumentals. He started off superbly with the much loved Oberkorn (It's A Small Town) which was the b-side to the gothic masterpiece single The Meaning Of Love. Written about a small town the band passed through in Luxembourg, Oberkorn is a classic early 80's synth pioneer instrumental that really has stood the test of time. I still love it and the version on the 12" Oberkorn (It's A Small Town) (Development Mix) is beautiful. The band's next single, Leave In Silence, was also backed by an instrumental called Excerpt From: My Secret Garden which is a fast paced and slightly odd version of the album track on A Broken Frame. The 12" added a remix of the instrumental take on a track no-one had yet heard called, and see if you can work out how they managed to come up with such a clever title, Further Excerpts From: My Secret Garden. Both are ok but nothing special. What is worth noting is that the b-side on the 7" can be played at either 45rpm or 33rpm. Two tracks for the price of one. The odd thing about A Broken Frame is that all the singles were released before the album came out, perhsps because the quality of the remaining album tracks was such that no other tracks were suitable for single release. What the album did feature though was an instrumental, the oddly moving Nothing To Fear, another track I still love to this day. Both Oberkorn and Nothing To Fear featured on the tours of the time, with the former opening shows and the latter popping up halfway through the set to allow Dave to have a sit down and a rest from his remarkable dance moves of the era. A live version of Nothing To Fear also appeared on the limited edition 12" of Everything Counts in 1983.
By this point, the little missed and rarely discussed Alan Wilder had joined the band and he wasted no time in trying to get himself sacked by joining up with Martin and writing the horrific The Great Outdoors which somehow appeared as the b-side to Get The Balance Right. Sounding like the soundtrack to a nightmare an elf would have, the track is so bad that I urge you to listen to it. Play it then straight after play In Your Room then try and convince yourself that those are two tracks by the same band. The Construction Time Again period then gave instrumentals a swerve, preferring to focus on lyrics about insincerity in Korea and the likes, no doubt still in shock after the whole The Great Outdoors debacle.
At this point, and knowing how..erm...keen some of are on DM, I'd better say that I'm not going to comment on 12" remixes that don't feature vocals. Just thought I'd point that out.
Anyway, bursting into the Some Great Reward era, we again find a startling lack of instrumentals other than the third track on the standard Master And Servant 12" which is, of course, Master And Servant (Voxless) so called because there are no vocals on it. So Depeche Mode basically invented karaoke - who knew?
Before you know it, we find ourselves in 1986 where the previously unfashionable instrumental starts to make more of a regular appearance. Christmas Island is the first to pop up, appearing as the b-side to A Question Of Lust and on the 12" as an Extended Remix. It's a gloom laden, metal bashing joy, featuring sampled missile sounds, all in tribute to the titular island where the UK carried out nuclear tests during Operation Grapple in the late 1950's. It's also written by both Martin and Alan, with Alan having served his three year instrumental ban post The Great Outdoors. The 12" of A Question Of Lust also features another Depeche Mode Karaoke Klassic, the actually quite fun to sing along to It Doesn't Matter Two (Instrumental).
But wait! What's that you say? Not one, not even two, but THREE instrumentals on the one release? Surely not? But yes, yes it is indeed the case, as with the release of
Strangelove
, the band literally went instru-mental. First up, the glorious
Pimpf
appeared as the b-side. As can be heard from the video below, it's a masterpeice and rightly opened all the
Music For The Masses
tour shows, bringing a real sense of drama to proceedings. It also featured on the album which is a bit annoying really as b-sides, no matter how good, shouldn't feature on albums, They have things called album tracks for that. Anyhow, in their guise as fearless pioneers of the remix, Depeche then gave us a remix of
Pimpf
on the 12" version of
Strangelove
, the perplexing
Fpmip
which, as the name might suggest, reverses the track slightly by putting the "ohh-ees" at the start before playing the rest of
Pimpf
as it stands. Odd and really only one for completists. Rather excellently though, the limited edition 12" and cd single also featured
Agent Orange
which is one of the band's finest instrumental moments. Beautifully melodic and, in places, almost tearjerking, it's a superb track. As I mentioned,
Pimpf
also features on the album as the last track, but there is also another instrumental,
Mission Impossible (Interlude)
which pops up long after
Pimpf
ends. It's there to wake you up if you fall asleep having listened to the album.
Finally, the 1980's left us with two final instrumentals, both of appeared as b-sides to the no-one-is-sure-what-countries-actually-released-it-as-a-single single Little 15. The 7 inch gave us the wonderful Stjarna which is another trademark Gore melodic marvel and the 12" added a cover version with Alan tinkling the ivories to Beethoven's Sonata No 14 in C Minor "Moonlight Sonata." If you're going to do a cover version, you may as well do a classical music one I guess.
1990 - 2000: Kaleid-ing Headstar On
There are, of course, fewer Depeche Mode albums post 1990 than there were before that, but that doesn't mean the drop in number of songs they released didn't stop them putting out tracks they couldn't be bothered writing words for. Oh no. Firstly, godlike behemoth and greatest thing ever done by anyone ((c) me) Enjoy The Silence kicked off the acid house fueled raving 90's with two b-sides that are sedate, piano led affairs - Memphisto (b-side on the 7" and limited 12" and cd) and Sibeling (available on the standard 12" and cd). They are both great tracks and really rather lovely. Depeche then caught up with the acid house scene that some say they were pioneers of with the squelchy bassed glory of Kaleid, the track which merged with Crucified, more of which below, to kick off the World Violation gigs. Kaleid is bloody marvellous and still sounds good today. The standard version appears on the 7", cassette single and limited cd single and the remixed versions Remix (standard cd single and limited 12") and When Worlds Mix (limited cd single and standard 12") are not to be missed.
The underwhelming and much hated by the fanbase album Violator, also features a couple of instrumentals, albeit uncredited ones. As mentioned above, the first of these is Crucified (a.ka. Interlude No.2 ) which I'm calling an instrumental even though it probably isn't. The second is Interlude No. 3 which pops up between Blue Dress and Clean sounding like a piece of electronic music recorded in a wilderness somewhere.
Songs Of Faith And Devotion
was basically instrumental free bar
Interlude No.4
which pops up with a bit of the
Swamp Mix
of
I Feel You
between
Get Right With Me
and
Rush.
Actually, I'm not sure that even counts as an instrumental as it features Martin's voice. More of that in the forthcoming "DEPECHE MODE - I'M AT THE BOTTOM OF THE BARREL NOW: THE INTERLUDES" blog post.
Talking of barrels (See what I did there?), the band's
Ultra
campaign started with a single called
Barrel Of A Gun
and, rather helpfully thematically for this blog, its b-side is an instrumental. The superb
Painkiller
is a genuinely brilliant track, all muscular drums and pounding rhythms. It features on the standard cd single and limited edition 12" where the single version and the ace
Plastikman Mix
both appear on the a-side. The
Plastikman Mix
also pops up on the limited cd single. Dizzy with the joy of instrumentals, the band featured another as the b-side of the next single
It's No Good.
Unfortunately, whereas
Painkiller
is great,
Slowblow
is slow and to borrow a phrase from my American chums, blows. It's fairly pointless in its standard form and in the form of the
Darren Price Mix
on the cd single. Neither
Home
nor
Useless
had b-sides as such, so the remaining instrumentals of the period were left for the
Ultra
album itself. This is the precise moment in time when Depeche thought it was a good plan to put little link tracks on the albums, an idea I still can't fathom. On
Ultra
, we have
Uselink
which is just before
Useless
and actually works pretty well and
Jazz Thieves
which is a waste of vinyl. There's a hidden wake up call at the end too in the guise of
Junior Painkiller.
The decade rounded off with
Singles 86-98
and lead single from the compilation
Only When I Lose Myself
had an instrumental b-side, the decent but not earth shattering
Headstar.
The
Single
version is the best with the
Luke Slater Remix
not really adding anything to the original. Interestingly,the XLCD features a remix of
Painkiller
by DJ Shadow called
Kill The Pain Mix - DJ Shadow vs Depeche Mode
which is great.
2000 - current date: Spacewalking Tigers and other nonsense
It's fair to say that recent Depeche Mode instrumentals have either been pretty crap or restricted to near pointless album fillers. 2001's
Dream On
, for example, was backed by the simply awful
Easy Tiger,
a track that gives
The Great Outdoors
a good name. Worse however, was the
Bertrand Burgalat & A.S. Dragon Version
which polluted the
Dream On
cd single. It honestly sounds like a drunk bunch of children playing musical instruments for the first time.
Freelove
also had an instrumental b-side
Zenstation
which is relatively nondescript. The remix,
Atom's Stereonerd Remix,
doesn't add much to the original at all. Amazingly, the parent album of these singles, the sadly fairly bland
Exciter
, featured
Easy Tiger
again (!!) albeit in mercifully shortened form. There is also another instrumental thing called
Lovetheme
which I can't even really remember.
2005's
Playing The Angel
campaign had actual songs for b-sides which was great and most welcome, leaving the instrumentals for the album itself.
Introspectre
is the only one and it's again neither here nor there really. It's certainly better than
Easy Tiger
if that's any help to you. Similar to
Playing The Angel,
2009's underwhelming festival of blandness
Sounds Of The Universe
saved the instrumentals for the album. The pointless
Spacewalker
appears at track 9 but that is soon forgotten when a nice plinky plonky short instrumental version of
Wrong
pops up long after last track
Corrupt
has ended. On the deluxe boxset disc of tracks that would have actually made the album a lot better, there's an instrumental called
Esque
which is actually rather nice.
Finally, the superb
Delta Machine
from 2013 features no instrumental things, nor do any of its three singles. So there.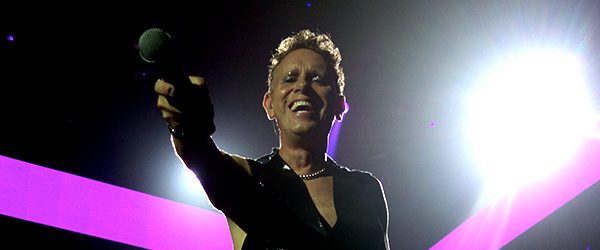 Usually, I'd finish one of these posts with a conclusion of sorts, bringing everything together in one well crafted soundbite. With these tracks, however, it's not really possible given their diversity. Most of them have some merit (no not you
Easy Tiger
) but are only really to be enjoyed as part of the overall Depeche experience rather than as some sort of tortuous playlist. Have a listen to them anyway and, like me, pray for more Depeche news soon as I really don't know what to write about next......