8 July 1994 is a day which may not immediately stand out to many as an important day in Depeche Mode history, however it is notable for the end of two eras in the band's life.
Firstly, it was the day of the last show of the Devotional/Exotic Tour/USA 94 near band wrecking marathon and secondly, and still much to the consternation of many Depeche fans, it was Alan Wilder's last gig with the band. The following year, Alan announced he was leaving Depeche Mode and, to some, the world has never been the same.
The gig, at the Deer Creek Music Centre, Indianapolis (full video below) was a relatively standard USA94 show as far as the setlist goes. The band played:
Rush/Halo/Behind The Wheel/Everything Counts/World In My Eyes/Walking In My Shoes/Stripped/Condemnation (Martin)/I Want You Now (Martin)/In Your Room/Never Let Me Down Again/I Feel You/Personal Jesus/Somebody (Martin)/Enjoy The Silence/A Question Of Time
As with all Exotic/USA94 shows, it's well worth listening to Martin's songs as he sings Condemnation beautifully and the remix of I Want You Now is splendid. This show, however, had a definite end of term feel to it. Andy Franks and Innes from Primal Scream danced and sang onstage during Enjoy The Silence, Daryl Bamonte's (Fletch's replacement) keyboard samples were tampered with, one of the band's assistants hid in Alan's piano and Dave threw himself into the crowd during A Question Of Time sustaining broken ribs and internal injuries. All in all, a fairly appropriate end to the band's most controversial tour.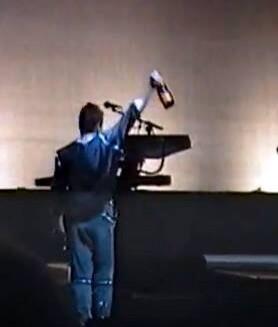 Alan leaves the stage for the last time Indianapolis 8 July 1994 (pic courtesy of Amanda Stock)
Some people look back on that whole era as a bad time for the band, but I have to say that I love it. The live versions of the songs are outstanding and are a lasting testament to Alan's work. I'm not one to get too upset by the fact he's no longer in the band but there is no doubting the impact he had on Depeche Mode and liver versions of tracks like Rush, In Your Room and Stripped from this era prove how much of a magician he is. No-one can build atmosphere like Alan.
Mainly, I can't believe it's 20 years ago. It really doesn't seem that long at all.