Skinny Dipper
are the newest addition to the impressive
Olive Grove Records
roster and, on 8 September, their Mask e.p. is released on download and limited edition vinyl. The 9 piece "almost a girl group" (8 girls, 1 boy) are made up of members of Randolph's Leap, Blochestra, Quickbeam and many more and together they create a perfect late summer soundtrack filled to the brim with beautiful music, harmonies and melodies so memorable that, once you've heard them once, you won't get them out of your head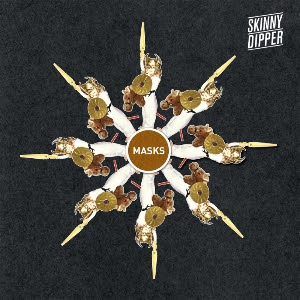 Landing is a spectacular opener to the e.p. and, for me, it's the standout track here. It's one of those songs that combines everything that is wonderful about pop music and it deserves to be heard by millions. If you try one song from the e.p. try this one. Hospital Bed (available to listen to on The Pop Cop
here
) comes next, continuing where Landing left off, immediately grabbing the attention with its' stunning harmonies and vocals redolent of The Sundays at their peak before The Kids Are Moving On slows the pace showing off the band's folkier side. Cellphones beams in briefly from another planet, taking you by surprise, before Son Of A Mitch closes the e.p, a beautiful end to what has been a mesmerising debut release.
Skinny Dipper are holding an e.p. launch at Stereo on 12 September with support from Chrissy Barnacle and blog favourites,
Call To Mind
. It'll be a great show which you should definitely try and get to. Firstly though, get Masks and get ready to fall in love with Skinny Dipper.