Sean Salo is a New York based Depeche Mode fan who is also an administrator on the wonderful Home website (
http://www.depeche-mode.com/
) which you really all should be familiar with by now. He's been a Depeche fan for years and has been to see them many times in many cool venues, the names of which I can't tell you as they would just make you cry with jealousy. Giants Stadium on World Violation anyone? Also, Sean has had the good fortune to meet the band through one of his previous jobs, so he knows his Depeche stuff. I was thrilled when he agreed to write a piece for this project and I know you're going to love it. The original brief was to write something about the U.S view of
Black Celebration
, but Sean has gone further and spoken to contacts at the U.S. label Sire and members of Book Of Love, meaning this is an blog you
have
to read. There are also some exclusive pictures thrown in for good measure. I'd hoped that this month would see us get some real insight into the
Black Celebration
era - Sean has provided just that and, even though I've thanked him loads already, I'd just like to say thanks again. Enjoy this - I know you will.
Life in the So-Called Space Age…
By the time Black Celebration was released in 1986, the decade hadn't exactly lived up to the promise of the modern space age with harmonious humankind working toward common goals of technological progress and prosperity. Coincidentally to the album's rear cover tagline about the space age, the damaged crew compartment and bodies of all seven astronauts of the Space Shuttle Challenger were found in the Atlantic Ocean just days earlier.
This disillusionment ran parallel to factors that pushed Depeche Mode from niche act to alternative superstars in the U.S.: Equal parts threat of nuclear annihilation, sex delivering a death sentence, Reaganomics, hypocritical religious televangelism, and corporate greed and excess. The new wave and post-punk movements were generally ignored by media outside of all but the major metropolitan areas, and was driven in large amounts by small college radio stations and niche music magazines and alternative newsweeklies.
The band's earlier singles collection was renamed Catching Up With Depeche Mode for the North American audience, who were generally catching up on the band who'd had a minor crossover hit with People Are People a couple years earlier. (Oddly, that single and others were not included on Catching Up With…, but rather on a separate, earlier Sire-only comp titled People Are People that included the eponymous track and was meant to capitalize on the success of that single in the U.S., as well as singles Get The Balance Right, Everything Counts, Leave In Silence, and B-sdides like Now This Is Fun. Are you following yet?)
For most in the US, Depeche Mode were relatively unknown. Except for their breakthrough hit People Are People which topped out at #13, MTV had ignored them, and mainstream American radio was the home of Michael Jackson, Bruce Springsteen, Whitney Houston, Bon Jovi, and Cyndi Lauper. Synths were much more the exception to the guitar rule in the States, with only a few mostly British pop crossover hits from the likes of Human League and Eurythmics. Meanwhile, the press and mainstream rock audiences were being won over by a new format of radio called "classic rock", which chose to ignore the fact that any music created past the year 1979 was worth listening to, further cementing America's love affair with the guitar.
But by 1986, things had started to evolve. New wave and post-punk formats appeared on commercial radio stations with typically weak signals. Stations like KROQ in Los Angeles and WLIR in New York receive much of the glory for evangelizing a generation of coastal American fans to Depeche Mode. But by 1986, others in San Francisco, Boston, San Diego, Washington, DC, Cincinnati, Pittsburgh, and in Toronto were giving love to DM. For all this increased exposure, one would think that stars of this burgeoning genre would have scored TV appearances in the States. One would be wrong. There was not a one. As a result, Depeche Mode's persona was largely an enigma to American audiences.
Richard Blade, DJ at KROQ, debuted 'But Not Tonight' as an import to his Southern California radio audience saying that he much preferred it to the gloomier Stripped. Sire, the band's US record label, had come to the same conclusion, as has been documented, granting the A-side status to But Not Tonight, adding it on as the final track on the North American release of Black Celebration. As linked the other day in the world tour entry, WLIR interviewed Martin Gore at the start of their New York stint, which is a great snapshot of where the band was in 1986. As a further testament to their newly gained success in a market they'd all but written off, A Question of Lust placed at #2 on KROQ's Top 106.7 of 1986, and A Question of Time was "Screamer of the Year", the best song of 1986 as voted by WLIR's listeners.
Sandy Alouete, Head of Music & Talent at MTV, worked at Sire Records at the time, including on Depeche Mode's releases. She'd been working for Sire for a year, at that time providing executive support to label head, Seymour Stein, when Mute sent a carton of Black Celebration t-shirts, and she realized that she "had the coolest job in the universe." She continued to work at Sire and Reprise Records through 2000, working on all their albums through The Singles 86>98. What struck her about 1986 was that Seymour was such a champion of the band and the album, dictating memos to her to send to Warners execs for the same promotion love that other artists on the roster were getting.
Alouete researched to double check her memory that they played not one but three shows at Radio City Music Hall. It was unexpected for a niche band to play one show at the famed hall in 1986. To headline three nights (and later sell out a fourth show in the market at Jones Beach) was "a big freakin' deal at that point!" She was also struck with how starkly different the "sparkly, new wavy pop" of tour opener, Book of Love, was from the darker and heavier music from Black Celebration.
Radio City Music Hall marquee, 1986
Asked if she recalled the swap of Stripped for But Not Tonight as lead single, Alouete said that ultimately, Seymour responded to pop hooks, whether it was working on Madonna or The Replacements, Morrissey or Depeche. "In the long run, I hope that the band will get its full due as the influence they are" to virtually every artist in the alternative and electronic genres. "In 2016, you can't find artists who don't say Depeche Mode were an influence."
"Sire was way ahead of the curve with DM", Alouete recalled. "It was rich with amazing tracks. And their live shows brought together a diverse audience – straight, gay, goth, pop, suburban, urban – in a way that no other band could have at any time before…Their Radio City show was electric."
Susan Ottaviano is the lead singer of Book of Love, a synth pop band who formed after meeting at art school in Philadelphia. On the strength of the demo for their initial single, 'Boy', Stein had signed the band to Sire in 1984. With just one single under their belts, Book of Love was asked by Depeche to open for them on the North American leg of the Some Great Reward Tour. Following the success of Boy, which achieved near-anthem status in new wave and gay clubs in the States, they recorded a follow-up single, I Touch Roses, which was remixed by Mute label head, Daniel Miller. Book of Love's eponymous album was released in early 1986, and they were asked to accompany Depeche Mode on the Black Celebration Tour in both Europe and North America.
Susan Ottaviano onstage at Radio City Music Hall with roses
Having been one of only a few acts to open for Depeche on multiple tours, I asked Ottaviano to share some memories of touring with the band, and if she noticed a difference in the States of the band's acceptance
.
Susan: "
I didn't really think there was a big change from one tour to the next. I thought that the band was growing, developing and finally coming of age, and more people were becoming aware of Depeche Mode. Black Celebration was such a great album and piece within itself. Book of Love definitely became fans on that tour! I don't know how many shows we had on that tour. (75?) But we saw most of them, especially in Europe.
Susan Ottaviano's brother and sister with Alan Wilder, 1986
"It was clear from the get go in Europe that their following was already huge! We played with them in some of the largest venues of our career. Palais Omnisport in Paris was over 20,000 people. For us, we were struggling to keep up. We had just one album's worth of material, and one tour under our belt. So, I don't need to tell you that it was exciting as well as very challenging! Some of these large venues had [general admission], and fans had been waiting in line for two days to get in. They weren't that keen on seeing an opening band when they wanted DM. But we won them over! Dave taught me how to show them who was boss! I'll never forget that, he was a big help to me!
"Another point to note is that 30 years ago there were very few women on the road touring. There was us and 30 men. That wasn't exactly easy. We had to win their crew over, as well. (Which we did. Ha!) When we finally got back to the U.S., the crowds were still big, and audiences knew our material better, as well. It was clear to us that something special was happening, especially by the time we got to the West Coast."
The Some Great Reward Tour during Spring of 1985 saw all of 15 dates in North America, largely in theaters, including a couple of colleges – something the band hadn't done since its earliest days in the U.K. Just over a year later, they nearly doubled their gigs here to 28 amphitheaters and arenas. Notably, the beginning of the tour saw the band play large theaters, including Philadelphia, Boston and the Radio City stint. From there, they went on to play the amphitheater circuit. Counterintuitively, at precisely the same time that their music took a darker turn, they had transitioned from a club and small theater act to one that packed 7k-15k capacity suburban, outdoor sheds.
Rear of North American Tour t-shirt
Some of the reason for this suburban acceptance was that Depeche Mode provided a perfect outlet for parental/societal rebellion for cliques of kids from the 'burbs who would have grumbled under their breaths in the cafeteria about the jocks and the metalheads. (Or am I speaking primarily for myself?)
At 15 years old, I had yet to see any live concerts. I wasn't even aware of how to go about that whole process, nor did I have the funds to do so. As a result, I missed out on the three Radio City Music Hall shows. But when the show at Jones Beach Amphitheater show was added, I jumped at the chance. Leaving the ticket buying duties to my cousin, we wound up with prime tickets in the second to last row in the venue. So on June 13th, as we entered the parking lot, I was struck by the fact that not only was the theater near the beach, but the stage was elevated above the water, and seemed to be floating on the Bay. (It's a favorite place to see shows to this day.)
Ticket to Jones Beach Show, 15 June 1986
We arrived in time to see Book of Love open. I couldn't care less that our seats were at the top of the bowl. The energy was palpable. Near the longest day of the year, the sun was still bright in the sky for their set. Toward their set crescendo, members of the audience threw flowers on stage as the band played I Touch Roses. "How in the world did people know to bring flowers?", my young mind wondered.
Still not quite dusk, there were no venue lights yet to be lowered to kick off the main show. Simply the brooding synth bass line of Christmas Island that began shaking my seat – which I sat in again only briefly. By this point, I wasn't yet the collector or even the fan that I am now, so I wasn't intimately familiar with this moody b-side to the A Question of Lust single. The intro track almost served as a palate cleanser for the more upbeat, major chord tunes from Book of Love. The band took the stage. Emboldened by the larger audiences, their shows started taking on more of a spectacle, with the lighting shows and staging reflecting their increased popularity both here and at home. Additionally, their image both reflected and informed what was happening within the landscape of the post-punk subculture. I mentioned sitting briefly again, but that was a lie; It was actually twice. I did so once right after they left the stage following People Are People so I could join the rest of the audience pounding our feet feet rhythmically on the hollow grandstand structure beneath the seats to coax the band back on stage. They obliged with Boys Say Go! Then once more again, this time sounding like thunder, prodding them out for the final encore of Just Can't Get Enough and More Than a Party.
What I saw that night changed me, as it did thousands of others on that tour. I arrived at the show a fan of the band whose People Are People' 7" single I'd purchased on a trip with my summer camp to Montreal in 1984. I left knowing Depeche Mode had cemented their place at the top of the pantheon of my favorite bands. Somehow, thirty years after that show, this remains the case. Depeche Mode are no longer just a hobby – music I enjoy collecting or listening to. I've developed deep friendships with other fans of the band worldwide – some of whom I've never met in person, yet consider close friends. Given the early irrelevance of the band in the States, I'm sure they could never have imagined it would still be a lucrative market for them decades later, nor that there would be a worldwide community of bloggers, message board users, and tour followers dedicated to their fandom of Depeche Mode.
Life in the so-called internet age…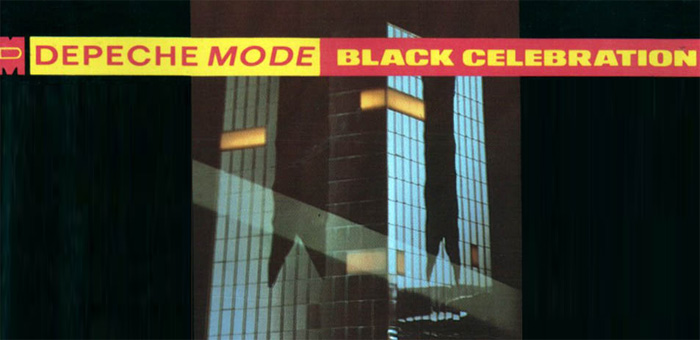 There is nothing I can add to that, other than to say thanks again Sean and that I hoped you enjoyed reading that. What a wonderful read.