When Black Celebration was released, Depeche were still viewed with suspicion in their home country. Their move from an angelic synthpop boy band to metal bashing purveyors of gothic synth majesty was not taken that seriously in the U.K. and so, a lot of the music press tended to treat them pretty harshly. The album's reviews were mixed to say the least which, when you look back on them now, is pretty funny given what Black Celebration did for Depeche in terms of increasing their profile. Anyway, I thought it would be interesting to see what the music press had to say. Again, thanks very much to the brilliant DM TV Archives for allowing me to plunder their site.
Let's start on a relatively positive note...
15 MARCH 1986 - RECORD MIRROR
Here are some things to admire about Depeche Mode: (1) their self-sufficiency, (2) their refusal to follow anything but their own fashion, (3) their refusal to be anything but themselves, (4) their unswerving ability to come up with great, fresh melodies.
Black Celebration is a comfy progression for the Deps, but it contains no huge surprises. It keeps to the rules they set for themselves in terms of quality, value for money, tunefulness and experimentation. It kicks off with three killer tracks – Black Celebration, Fly On The Windscreen and A Question Of Lust, the latter being a prize crystal-clear, soaring Mart-on-vocals special. But it really is like putting all your cards on the table before the game's finished.
Of the raunchier numbers, A Question Of Time stands out, as does the single Stripped and the moody Dressed In Black. New Dress, although it pumps and throbs, has rather excruciating lyrics, ditto Sometimes, one of the rather too many sweet little ballads. Although the melodies are gorgeous, Martin seems preoccupied with sounding like the gawky school choirboy. Mr. Gore is again lyrically concerned with tenderness, sweetness, closeness with another, and putting his heart on his sleeve. That's fine, balanced against Depeche Mode's more exciting, sinister side. Beware the girly swot notebook with the arrow through the heart, boys, and you'll rool OK. Strength through wimpery!
Not a bad start. The next one just gets it all wrong though, but that's what Sounds tended to do
15 MARCH 1986 - SOUNDS
DEPECHE MODE: no nudes is good nudes
DEPECHE MODE 'Black Celebration' (Mute STUMM 26) **1/2
THE TV'S burnt the toast, the hoover's eaten the carpet and, in the background, pop's parasites are chewing at life and spitting out synthesised saccharine that dissolves in the air and not in the heart. They stride purposefully down paths of misguided desire...and get lost. Depeche Mode play Depeche Mode with conviction, the mould is cast and the cast are convinced. As menacing rhythms beat beneath treacle-covered whims, they sing of sex with disposable belief. When naivety swamped their soul, youth was held up as the reason — now, though, no such excuses are valid and the real world still waves from afar.
Black Celebration is a vision of love as seen through the eyes of pop's 'subversives' (sic), mean, moody and marmalade. Life can be a bitch when you're cast as court jester and you've dreamed of being king. Fly On The Windscreen is too perceptive for lunch. "Death is everywhere/There are flies on the windscreen/For a start/ Reminding us we could be torn apart"Thanks lads, but I've eaten — besides, I've swallowed too much shit already.
Depeche Mode are bored with last week's toys and, anyway, SPK wanted their angle grinders back. SO now they're busy playing with John Carpenter's ideas, pulling the legs off gripping soundtracks and turning them into harmless scenes of banality, with no twists and many happy endings. I hate happy endings. When they start singing songs about Princess Di's clothing, New Dress, you know that you're in safe hands and that there's nothing lurking around darkened corners to surprise you. But Depeche still reign supreme in the world of programmed pap, their music still has a nagging simplicity that is ensnaring.
When hinting of depth, they beg an inquisitive leap, but such a foolhardy act only gets your ankles wet as their nursery rhymes squidge between your toes. I treat the garden to my presence and reflect on their poetic observations: "Sometimes/Only sometimes/1 question everything/And I'm the first to admit/If you catch me in a mood like that/I can be tiring/Even embarrassing." Upon digesting this gloriously incisive self appraisal, I let out a euphoric cry before tearing up the sleeve and feeding it to the birds.
Thanks Kevin Murphy. That was incredibly incisive. I imagine he actually got paid for writing that which says more about his employers than it does about him. Let's see how the NME dealt with it. Ah yes, in that classic NME way...
15 MARCH 1986 - NME
Somewhere, between Basildon and Berlin, is a place that Depeche Mode call home. It's an uncomfortable abode though it gleams and sparkles with pristine decor and designer-built functionalism, a matt-black (naturally) dream home whose geometrical symmetry hides a thousand sins. Although Depeche Mode - and their mainman/songwriter Martin Gore especially - long for that certain Euro-ambience, these four suburban boys are forever blighted by a peculiarly English sense of propriety, a pop protocol that drips with politeness.
This well-behaved music threatened to slip from its axis on '83's quite invigorating Construction Time Again when the awakening promise of Everything Counts and More Than A Party approached the realm of cheeky subversion. Alongside Gore's political awareness grew an unhealthy fascination with the sturm und drang of German industrial culture, the viral music of Neubauten and our own Test Dept. Yet what tension Depeche Mode possessed of late - and there was little to be detected on last year's atrophied Some Great Reward - came from the frisson of Gore's dark Teutonic pretensions with the continued tyranny of studied, harmonious order that his three accomplices seemed quite happy to perpetuate. As a virus, Depeche Mode's music is closer to sleeping sickness than to any nerve-wrenching disorder. Worse still, the psychology-by-numbers cant of a song like Masters And Servants [sic] teetered ominously close to the chanting histrionics of a Tears For Fears' "Shout! Shout! Let it all out!" exegesis.
On Black Celebration, the contradictions continue and continue to remain unresolved. Martin Gore's presence is stamped all over this album, not least in the sex-death-lust angst which informs virtually every lyric whilst the accompanying music, although often hinting at impending disorder, is a paradigm of well mannered electro-pop. Opening with the title song, Black Celebration, which has nothing to do with the recently established Martin Luther King Day and a lot to do with being stoical in the face of life's sheer mundaniety, the album establishes a mood that is dark yet faintly ridiculous. Over those perfectly constructed jigsaw melodies, David Gahan's cloyingly winsome voice ennuciates Gore's adolescent fragments of despair. Fly On The Windscreen includes the immortal line "death is everywhere" over a propulsive, multi-layered background complete with dismembered voices and cut-up sound patterns that are actually quite winning. Again, on A Question Of Lust, the overblown introspection of the lyrics defeats serious analysis whilst Sometimes approaches the analyst's couch as Gore, via Gahan, informs us, without a hint of irony, " ... I'm the first to admit/If you catch me in a mood like this/I can be tiring/Even embarrassing". Never.
It is left to the music to provide what relative highlights there are and, within their own parameters, Depeche Mode create a resonant, if undemonstrative techno-pop tapestry where the various percussive and melodic components often lend a rich textured sheen that is not without a certain depth. A Question Of Time, with its rising and falling structure, manages to perfectly complement an exceptionally curt and aggressive Gore lyric whilst New Dress ruptures the prevailing introspective and fingers the media trivialisation of "real" news. Indeed, when the songs address topics other than the composer's state of mind - as on the evocative exploration of loneliness that is World Full Of Nothing - Depeche Mode sound like a lot more than just a high tech, low-life melodrama. For the most part, however, they continue to provide a soundtrack for the up-to-date, matt black bedsit: dark, yet faintly ridiculous.
Firstly, Some Great Reward was from 1984. Secondly, it's Master And Servant. Thirdly, Martin sings Sometimes. Fourthly, that's just a load of bollocks. What did the NME's arch rival and, incredibly enough, generally worse Melody Maker have to say?
15 MARCH 1986 - MELODY MAKER
The same old song. That Depeche Mode are willing to worm their way out of their lucrative niche as mega-cuddlies is encouraging even if
they've
been at it so long
they've
fashioned a career from sweet abrasion. Damn sure they know they'll never swap their teddy bear image for chart terrorism but the effort has become the sole fuel to Martin Gore's fixations.
It's depressing, though, that in their own small struggle for personal and artistic dignity, Depeche have only managed to trade in one set of cliches for another – white for black, bright for bitter, tunes for twisted chants.
Black Celebration finds Depeche even more over-anxious than they were on the depressing Some Great Reward to shock for the sake of it, pussycats desperate to appear perverted as an escape from the superficiality of teen stardom. Dressed In Black is just Master And Servant revisited, an adolescent masturbatory fantasy. Similarly, Fly On The Windscreen attempts to evoke the claustrophobic swamp intertia of Mute labelmate Nick Cave's Wings Off Flies. These songs tell us, time and again, that they're desensitised to love, that the only release open from spiritual malaise is a momentary tactile passion, a lunging, groping lust.
More saddening still is New Dress, an unbridled attack on press hypocrisy which, in its humourless juxtaposition of headlines, ("Famine horror, millions die") against its refrain ("Princess Di is wearing a new dress") recalls nothing more than a secondary school poem.
As always, it's difficult to discern whether Martin Gore's clumsy lyrical truisms are intent on promoting his over-apparent desire to assume a sinister dimension on whether he's honestly concerned for his subject matter. Are the Depeche of A Question Of Time revelling in the scenario of under-age sexploitation as an exercise in biting the hand the feeds, or are they genuinely dismayed at the inevitable moral decay of this rotting nation?
Then again, it's precisely Gore's naively logical lyrical equation, wedded to the established Depeche linear musical mode, that occasionally adds up to something successfully whole, something that incorporates optimism. The title track's a throbbing metallic purging of the daily grind, Stripped is pleasingly minimal, if mannered, and there's a wonderful hope in the appalling New Dress: "You can't change the world / But you can change the facts / And when you change the facts / You change points of view / If you change points of view / You may change a vote / And when you change a vote / You may change the world".
But it's when Depeche are being unconsciously throwaway, when they relax their straining against their reputation, that they attain the sublime. A Question Of Lust is gorgeous, an Almondesque torch vocal mounting a simple electronic code worthy of The Human league. Mostly, though, Black Celebration is Depeche fucking with their formula and the real shock is the insight it provides into the troubled psyche of Martin Gore, a lad struggling to grow in public and, for all his opportunities, finding only sleaze and filth to feed off. They'd have it sickening – Gore a willing victim desiring the symptoms he purports to despise.
Pah. Ok, it's better than the NME piece, but still...Dressed In Black "an adolescent masturbatory fantasy?" Sod off.
No 1. magazine was succint but thankfully seemed to like the album
22 MARCH 1986 - NO. 1 MAGZAINE
Depeche Mode are one of those bands whose music
shouldn't
be given the "gut reaction" treatment. Following last year's Some Great Reward, this LP sees Martin Gore following much the same lines. He will persist in asking the kind of questions that there really are no answers to. Musically there is a riot of atmosphere which should ensure many a Depeche fan will be dipping into this one over and over again. Best tracks, aside from the single Stripped, are Here Is The House and World Full Of Nothing.
See NME? That's how you do it. Plus No.1 got it right about Depeche fans dipping into the album over and over again.
The L.A Times review perhaps gives us a clue about what was going to happen to Depeche Mode in the U.S as they clearly love it. Note though the mention of "the last track." But Not Tonight featured on the U.S. version of the album for reasons I've gone into and inevitably moaned about previously
27 APRIL 1986 - L.A TIMES
"BLACK CELEBRATION."
Depeche Mode. Sire.
David Gahan's alternately husky and breathy vocals are emotive, and the blend of warm tones with ominous chugs and clangs makes these sleek, modernistic and enigmatic songs a perfect sound track for tentative love in the industrial age. Songwriter Martin Gore has pulled off a double-whammy, backing evocative, thoughtful lyrics with a seamless suite of danceable, hummable melodies. The tension builds and releases as Gore periodically wrests aside his bleak cynicism to let vulnerability and hope gleam through. Thus, the utter despair of Fly on the Windscreen eventually gives way to a tender homily to home and security in Here Is the House. But the best is saved for the last track, But Not Tonight, a bouncy, refreshing exultation about new beginnings and being alone but not lonely. Rarely has introspection been so tuneful.
I don't think anyone would agree that But Not Tonight is the best track even on the But Not Tonight 7" single, but this review shows that Sire must have known the American record market I guess. Or at the very least, they knew what Lori Pike liked.
The Washington Post then had its say
12 JUNE 1986 - THE WASHINGTON POST
MICROCHIP music for moody moderns: Black Celebration is another batch of dire and doomy electrodirges from Depeche Mode, pop pap apparently aimed at a burgeoning market of budding adolescent existentialists.
Songs like Black Celebration and Fly on the Windshield (sample lyrics: "Death is everywhere / There are flies on the windscreen for a start / Reminding us we could be torn apart / Tonight...) would seem likely to reinforce suicidal tendencies, but taken as a whole, this album is so unremittingly morose it becomes almost comical.
Over the space of five albums, Depeche Mode has refined its distinctive sound, marked by a hammering dance beat and trademark musique concrete blend of "industrial" metallic noises and odd sampled sounds - breathing, slamming doors, flushing toilets.
Many of the production gimmicks on Black Celebration are arresting, but the group has simply put more polish on the basic formula. Singer/songwriter Martin Gore's listless, limited vocals sound as if he's delivering them through a vacuum cleaner, snapping on different attachments for each number. The songwriting is similarly formulaic, with each song based on a compilation of elementary electronic riffs, though Depeche Mode is getting more ambitious - the synthetic choral chant from It Doesn't Matter is baldly borrowed from the Philip Glass canon.
Ok, just to be clear it's WINDSCREEN not Windshield. Just because that's the American word for the perfectly good, standard English language version doesn't mean you can change it when IT'S NOT WHAT THE BLOODY SONG IS CALLED! I mean, you don't refer to the band Pavement as Sidewalk do you? Plus the review is a load of old arse. "Quick I'd better mention Philip Glass so that I sound pretentious." Good grief.
Rolling Stone paid a bit more attention...
By Mark Coleman
Routinely dismissed as a band of synth-pop robots, Depeche Mode actually uses its machines to make some of the most human sounds around. Black Celebration is certainly this British quartet's most melodic effort to date: the clanging disco-concrete fusion of early LPs like Construction Time Again has mellowed into a brand of brooding, romantic music only hinted at on last year's Some Great Reward. "I haven't felt so alive in years," gushes singer Dave Gahan on But Not Tonight, this LP's ghostly closer, although for composer-lyricist Martin Gore, even celebration is pretty bleak.
Gore dissects his gloomy obsessions with wit and intelligence. He's abetted by his bandmates, inventive technicians who understand that machines weren't meant to sound like souped-up electric organs. Despite its campy horror-show title, Fly on the Windscreen — Final is the sort of matter-of-fact meditation on mortality most people flash on behind the wheel of a car. A bank of synths buzz ominously through the verses of Fly, amplifying the unease, then whoosh gratefully when the first chorus reaches for life's only solace: "Come here kiss me NOW."
Most of these ditties are unabashed love songs, albeit brutally honest — quirky ones that pick apart popular notions of emotional independence (A Question of Lust) and adolescent sex (A Question of Time, World Full of Nothing) to an itchy, mechanized beat. Songs like these and some serious image-mongering have won Depeche Mode a loyal teen following, appropriately enough. But underneath their bleached-blond, black-leather pose lurks musical maturity and a wry sensibility deserving of a wider (read adult) audience.
But Not Tonight a "ghostly" track? That's a first.
Let's leave the last word to U.K. pop mag Smash Hits. They always loved Depeche and they loved Black Celebration
DEPECHE MODE: Black Celebration (Mute)
Despite their seemingly endless stream of brilliant singles Depeche Mode always seem to go a bit wonky when faced with a whole album to fill. Not this time though. Black Celebration doesn't only see them go a bit weirder with lots of dark, mysterious percussive episodes (sung by Dave Gahan) snuggling up against sweet, fragile and rather sinister ballads (sung by Martin Gore) but is also the first time they haven't had to throw in any second-rate stodge. Their best album yet (apart from the very brilliant Singles LP, that is) (8 out of 10)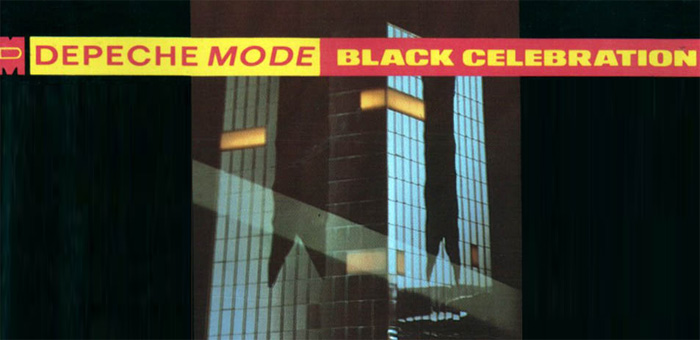 So there you go. How the U.K music press and a couple of American reviewers treated Black Celebration when it came out. Ultimately, it's fun to read these things, but even now, the likes of Melody Maker and NME still have the ability to rile me - and I really am far too old to react like that.