Wow. It's over. I can't quite believe that this month long project, conceived in a moment of concern that the blog was starting to move away from a focus on Depeche Mode, is over. When I first came up with this, all it was was a good idea, or at least what seemed to be a good idea. Once I got into it and sent out the email requests to various people, it got very real and very scary. Even up to the middle of this month, I was doubting whether or not I could complete it. I'm really glad I did though.
It's been, well, unbelievable really to have had the sort of response I've had to the blog. The Black Celebration posts themselves have had nearly 20,000 views in March alone and my back catalogue has also had more visits than I'd usually hope for in three months, let alone one. People have said so many kind things on Facebook, Twitter and Depeche forums - that alone has made it worthwhile. People love Black Celebration and thankfully, people have loved reading what I've had to say about it, what my interviewees have had to say and what my guest bloggers have had to say too. Oh and also heard what my guests had to say - Glen and Matt specifically. Thank you then, whoever you are, wherever you are, for reading my posts and for saying lovely things to me. It was genuinely inspiring to get such amazing feedback and that's what's made this all worthwhile.
I genuinely couldn't have completed this without help from my guests, so thank you very, very, VERY much to my guest bloggers:
I've mentioned these sites before, but they need mentioned again too. Thanks to everyone at Depeche Mode Classic Photos & Videos for letting me loose in their archives and allowing me to share some wonderful pictures. Thanks to DM TV Archives for letting me use their hard work to my advantage and thanks also to the strange but brilliant world of depmod.com for pictures and fact checking. Finally, thanks of course to the official site depechemode.com for letting me use materials from the archives.
Nearly there.
The Gareth Jones interview has unsurprisingly proved to have been the most popular post this month with nearly 4,000 views. I could have talked to Gareth for hours and I'm so grateful to him for giving up his time for me. Thanks very much Tonmeister.
Thanks too Brian Griffin for his artwork interview which was enlightening. Also, thank you very much to the wonderful Speak & Spell and Forced To Mode for taking the time to answer my questions. My thanks also to Mr Monument, Dennis Burmeister, for speaking to me about Depeche rarities.
Finally, thanks to my wife Pam for putting up with all of this and for the inspiration generally, but specifically in this instance for the Black Celebration birthday post. Can you even imagine how fed up she is of hearing the words, Black, Celebration, Depeche, Mode and blog?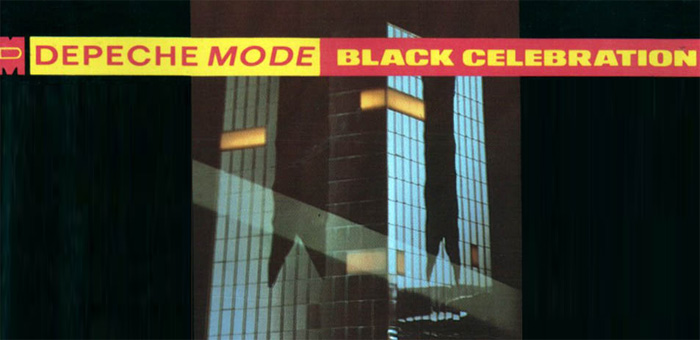 So that's that. It seems that Depeche will be on the road in 2017, so I'll hopefully see you at a gig or two. I'll be the one in the Almost Predictable Almost t-shirt, praying they play something other than a track from Black Celebration. Come and say hello.
As Dave would say, thank you very much, we'll see you next time.